One of my favorite things about having a party is the cake! Wedding cake, birthday cake, any kind of cake! Thankfully, I have an amazing bakery that I love near me: Beverly's Best. I have blogged about them before (here, here and here!). I already knew how I wanted the cake decorated and it was pretty easy to go in there and order - and I got to pick up a little treat while I was there (it was an espresso cup made of chocolate and filled with a cappuccino mousse....heaven!!). The anticipation of seeing my idea come to life was killing me! I couldn't wait to pick up the cake and I can tell you, once again, I was not disappointed - with the design and later slicing into it - deeeeee-lish!!
Those little bee's buzzing around the cake?? They were not done at the bakery! Oh no, one of the first things I found on Etsy when we had decided on the theme were these little guy
s from Sweeten Your Day:
And then I saw this cake picture that featured a larger bee: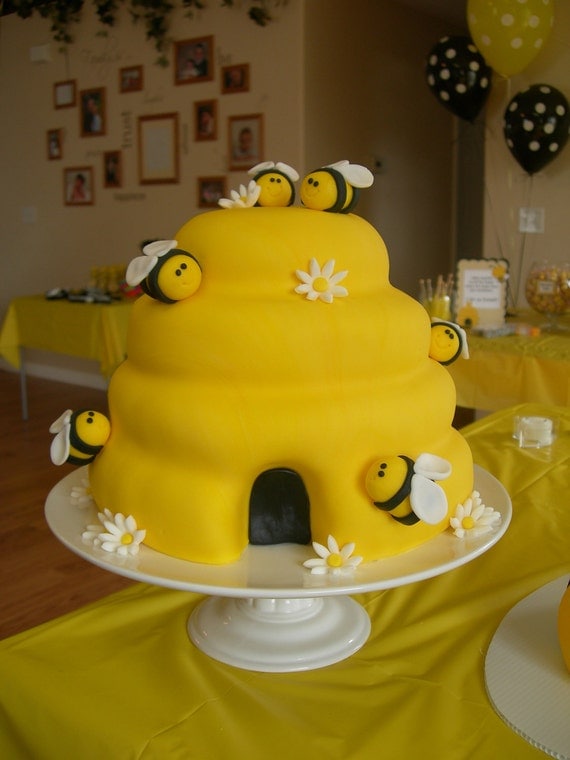 Super cute, right? I ordered them right away! You can get a dozen mini bee's for $15.00 but, since I knew I wanted to use them on the cake, I split my order to 6 mini bee's and 6 large bee's. Jen is the owner and chief designer of Sweeten Your Day - she has been in the cake business for over 4 years but, decided to take a break to spend more time with her kiddos. You know when you love something though, it is a part of you, so she opened an Etsy store where she sells all kinds of cupcake and cake

toppers that are ALL made by hand with either fondant, gumpaste, or royal icing and they are ALL 100% edible!

Jen can custom create anything - so, no matter what your theme is she will work with you! I can tell you that when the bee's arrived they were packaged safe and secure and they looked exactly like the picture: PERFECT - right down to their little smiles! I loved them! For size purposes, you see the larger bee's on the cake above so, here is a picture of the mini bee's on the cupcakes:
Speaking of cupcakes...mmmm! I had purchased from one of those daily deal sites (like Groupon) a deal on a dozen push cakes from Kays Kupcakes. I knew I would be celebrating 2 different occasions so, I bought multiple deals to use. I love push cakes - they are cake and frosting in those little plastic tubes - heaven! So, when I called Kay to redeem my deal I explained to her my party theme and that I had already ordered a cake but wanted to do a sweets table. She was totally flexible (and super, super nice too) so, we came up with the idea to do 1 dozen push cakes and 1 dozen cupcakes. This was perfect since I needed to use my little mini bee's! Then, towards the end of our conversation, on a whim, I asked her if she did cake pop's! YEP! She did (pricing was excellent too!) so I ordered 2 dozen cake pop's from her as well! When we finally met in person, we hit it off perfectly! She is so sweet and bubbly - she fits right into the cupcake world! Speaking of the cupcake world, Kays Kupcakes hosted Cupcake Camp OC this year. Cupcake Camp OC

is a gathering of cupcake-lovers to raise money for a good cause. This annual event is

100% volunteer-organized and operated by Kay and Tiffany.
So, the most important thing about cupcakes, push cakes and cake pops are how did they taste, right?? Well, I can tell you Kays Kupcakes has gained a permanent FAN in me! The frosting was incredible, the cake super moist and yummy flavor and the cake pops - amazing! I have had quite a few cake pops - even tried to make them myself ONCE - and they are not easy! Kays Kupcakes, on the other hand, has it down!! (just a little shout out here: THANK YOU SO MUCH Kay! I am so glad I met you...I am a huge fan!). So, no matter where you are, the push cake and cake pops can be delivered so keep them in mind for your next party, you won't be disappointed!
Now that I had my cake pops ordered, my next task was to find something to display them! I headed back over to my favorite hand made community, Etsy, and began my search. It didn't take me long to find MCreations4u. A relatively new shop on Etsy but, their prices were great and their feedback was good. I sent a message over to
Marilou and she responded within an hour! I had explained my theme and she got back to me that same day with 2 mock up's of what I wanted - this was the one I chose:
WOW. Talk about customer service! I was super impressed! I ordered the same day! 4 days later, I had my custom, handmade cake pop stand! I thought I was impressed before?? Double WOW now! The quality of this stand is super, duper amazing. I could not believe it! I was so excited about this and honestly...I already have ideas for two more I want to order now! Cake pops are really popular little desserts right now and if you have been looking for a way to show them off - or if you make them as part of your bakery - I urge you to check out Marilou's shop. Marilou can make whatever theme you are going with and you can message her about custom colors. You will not be disappointed with your purchase or her excellent customer service - I guarantee it!
Now, finally the candy bar! This was something I was planning on from the beginning but, something I waited to the last minute to put together! I couldn't decide if I wanted to hire someone to do it or make it another DIY project. I had been hunting for containers but, then decided if I factored in the cost of the candy and all the containers (which I would NOT need after) the price would work out to be very close. Decision over - hire a candy bar company. WRONG. I wasn't able to find anyone available to do it! Slight panic mode was setting in. I searched out a few online wholesale candy companies. I knew I had to find someone local because the party was only 4 days away! Luckily, I live in Southern California and I found a couple of options. I visited Candy Pros, located in the San Diego area, and when I checked the shipping information it said if you needed the order right away to call them because processing the order could take up to 2 days (yikes). I called and spoke with Susan and she told me, "If you place your order online within the next 10 minutes I will be able to ship it out today." Lady luck was on my side again! UPS Ground shipping would take 1 day. I ordered 15 pounds of candy and 12 Whirly Pop suckers - their prices were the best I found online but, their customer service plus same day shipping without any up charge equals a BIG WIN in my book! I would also like to share a discount code with all my readers for Candy Pros! I got such a wonderful email from Candy Pros the other day and guess what?? They have offered to give anyone who orders an ADDITIONAL discount off their already low prices! Yay! If you place an order with them, use the code
"meanttobee"
at checkout for an additional 5% off! If you are considering doing a candy bar or need any sweets - this is the site to check out! My order was packaged with care (meaning with candy lots of shipping popcorn and even had the ice packs to ensure no melting). In addition to their easy to navigate webpage you can find their blog here - which offers lots of ideas!
The only issue left was finding containers and scoops! Party City solved that problem. While picking up a few last minute items, sitting right at the check out counter display were these clear candy bar container kits from Wilton. They were priced at $9.99 for the set of 3 and the kit also had the labels you see on each container in the photo above. Surprise, surprise! They also had the candy scoops! The scoops would work but, they did have hearts on the end and I would have preferred no hearts. I ended up not buying the scoops - I had one more place to try but, at least I knew they were there if I couldn't find what I was looking for. By this time, it is the night before the party I had one more stop - Cost Plus World Market. If you are lucky enough to have one of these stores near you (they have 258 stores nationwide) you will be able to find the perfect 3-piece aluminum scoop set for just $4.99!
I hope you have enjoyed my Meant To Bee recap! I also hope that out of the two posts that if you are planning a Meant To Bee party, shower or wedding theme that the DIY projects I have listed and the vendors I have recommended will come in handy for you! Now, it's time to announce our Meant To Bee giveaway!!
Like all the things you've seen in this post? You can win these items! Our Meant To Bee Giveaway is now open!