I will admit that leading up to the big day I wasn't that excited about the Royal Wedding. But, as the time got closer, I found myself tuning in - live feeds on the internet going (from two different sites) and the big screen TV turned on! I think, for me, the thing that I didn't like about it was that I knew the day wouldn't be "theirs". I am pretty sure that every aspect of the wedding had to be approved by the Queen. I mean really? Talk about your MIL being overly involved in the wedding plans!! After thinking about it, though, I get it and I am sure the bride and groom did as well. Everything about your wedding, if you are having a Royal Wedding, has to withstand one thing - time. This means every aspect of the wedding must be elegant, flawless and perfect. And, it was just that. Inevitably, in most weddings, no matter how much you plan, there is something that goes wrong. At a Royal Wedding, however, I just don't think that is an option. So, here are my thoughts on the big day - the things I loved and the things I thought could have been better:
Picture source: BBC Live stream still
Westminster Abbey was pretty much undecorated, other than the

dozen or so 20-foot tall

field maple

trees arranged on either side of the main aisle. I had read the couple chose the florist for the wedding based on his ideas of sustainability and that everything used for the wedding would be replanted. Symbolically, I guess it's a nice gesture but, I personally love flowers and would have liked to have seen a little more.
Finally, we get a good look at the dress! I loved the top half of her dress! The lace is gorgeous (I do love lace although wouldn't pick it myself). There was so much speculation about what kind of dress she would wear - but, really? Was there any doubt it would be anything but a ball gown skirt? The dress was typical for a Royal Wedding and perfect for a future Queen. I am sure if she was just a typical bride getting married, her own taste wouldn't have dictated such a matronly type of dress but, marrying a Prince (who will eventually be King) it was perfect! Also, the venue you marry in, sort of, dictates the type of dress you wear and that long walk down the aisle requires a long train (maybe not as long as Princess Diana!). My immediate thought, like most other people, was that the gown was very similar in style to Princess Grace of Monaco. The lace bodice design was hand-made using a technique that originated in Ireland in the 1820s called Carrickmacross, which involved cutting out the detailings of roses, thistles, daffodils and shamrocks and applying them to the ivory silk tulle individually. Just having the lace hand-made is pretty awesome (lace today is done by machine). O
k, so here is my 2nd complaint and you might have guessed, based on the pictures above, that it is again...the flowers! Her bouquet is so TINY! The dress, the church, everything about this wedding is HUGE and then she has this little button bouquet! *Dislike*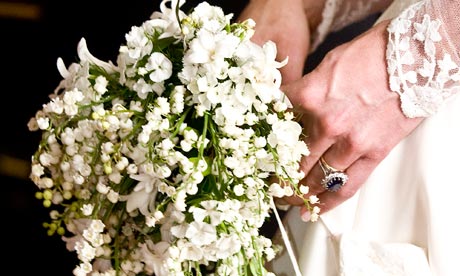 Photograph: Ian West/AFP/Getty Images
Since I do like to be neutral on most things, though, I will say that I like the meaning behind all the flowers. Her bouquet contained myrtle, Lily of the Valley, Sweet William and hyacinth.
L

ily of the valley means "trustworthy"

Myrtle "hope and love"

Sweet William - well duh! right? but it's meaning

is "

gallantry"

Hyacinth means "

constancy of love"
The one thing I absolutely ADORED about the wedding though, and it is a part that I think was totally them, was the get-a-way car! So cute, so young and just fun! So, the big day is behind all of us and I am sure, like any bride, Kate will have the same feelings: glad it's over but totally missing the planning and lead up! My hope for the couple, and to every bride and groom, is that I hope they remember this day and everything that led up to it and hopefully it will carry them through all the rough patches because, marriage isn't a fairytale - it's a lot of hard work - even if you do have the title of "princess".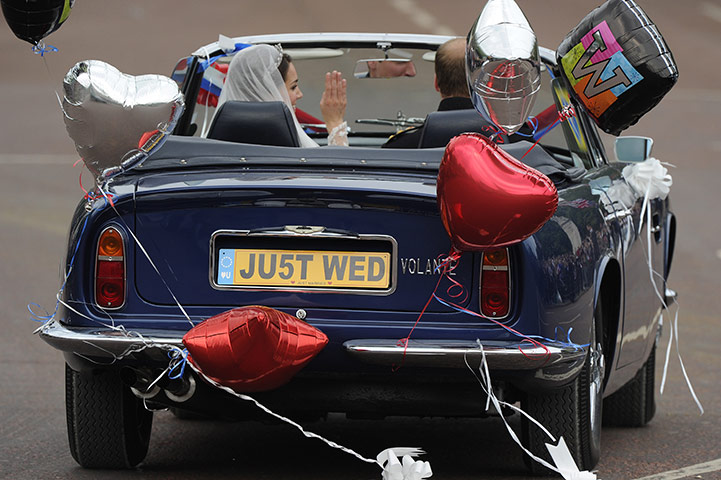 Photograph: Tom Jenkins for the Guardian